Seward Advances to Region Championship Match
Brock Kappelmann - November 6, 2021 6:02 am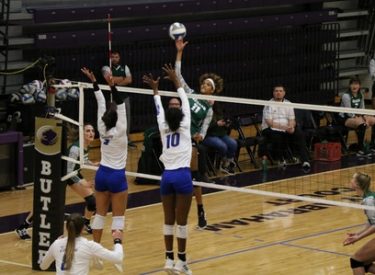 El Dorado, Kan. – Seward County Community College outlasts Barton Community College in a 5th set thriller to advance to the Region VI Championship match for the seventh straight season. The Lady Saints had to battle back after they fell behind 2-1 to win the next two sets. The final set scores of the match were 25-13, 21-25, 21-25, 25-18, and 19-17. Seward County will face No. 3 Butler Community College at 1 PM in El Dorado, Kansas for the Region VI Championship.
Seward County started the match off strong and took an early 9-7 lead after a kill by Seyun Park. The Lady Saints added to their lead with a kill by Ana Brangioni they led 20-8 and looked to take control of the match. Seward county won the first set 25-13 after a hitting error by the Cougars.
To start the second set both teams traded off points but after a Jessica Sales kill from the outside the Lady Saints led 10-9. The Cougars took a late lead of 20-18 that forced a timeout from Head Coach Geno Frugoli. Out of the time out Sarah Cruz connected on back-to-back kills to tie it at 20 all. The Cougars closed out the 2nd set with a 5-1 run to win the set 25-21 and tied the match at a set apiece.
Similar to the 2nd set, the third set started with both teams even at 7 all. Cruz connected on another kill to give the Lady Saints a 16-15 advantage over the Cougars. Late in the third set Barton once again took a late lead 22-20 and the Lady Saints could not answer as the Cougars won the set 25-21.
Down 2-1 in the match, Seward County needed to respond in the fourth set and that is what they did. The Lady Saints led 8-6 and jumped out to their largest lead after a Sales ace to give Seward an 18-13 lead. Seward County evened up the match two sets all with a 25-18 fourth set victory.
The fifth set started with Seward County on a 7-1 run to lead early with great serving by Ana Brangioni. The Cougars responded with a 7-1 run to tie the set at five all. After a big kill by Cruz, the Lady Saints led 12-10 and had momentum. The Lady Saints had four match points as the Cougars never gave up and the Lady Saints could not get the final point. at 18-17, Seward County set Skylar Wyllie in the middle for the final kill as Seward County won the fifth set 19-17.
The Lady Saints will have a quick turnaround as they take on No. 3 Butler in their home court tomorrow November 6th at 1 PM.