Rattlers Finish Season with Long Day in Junction City
Brock Kappelmann - July 24, 2017 6:42 am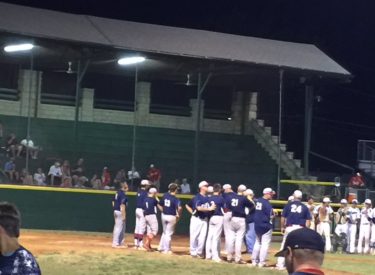 With one game that kept getting pushed back Sunday morning and another game that ended late Sunday night, Liberal finished 1-1.  The Rattlers go 1-2 in pool play and are eliminated from the Midwest Plains Regional in Junction City.  The Rattlers beat the East Minnesota Twins 7-6 Sunday afternoon and lost to the Buckley, Colorado Bombers 3-1.
The game against Minnesota actually started Saturday night.  The Rattlers took a 3-1 lead in the first before a storm sent the two teams to bed with a rain out.  The game was scheduled to be resumed at about 9 Sunday morning but was pushed back to 11:15.  Liberal led 6-1 until the Twins scored five in the bottom of the sixth.  The Rattlers scored in the seventh to take the lead back as Max Valles walked and Terrazas drove him home.  Max Valles pitched 5 and 2/3 and Alex Yanez went 1 and 1/3.  Poncho Terrazas was 3-4 with a double.  Alex Yanez had two hits.
The Buckley Bombers ended Liberal's season after 10:30 Sunday night.  Liberal had just one hit and lost despite a great starting pitching outing from Tucker Deaton.  He went 5 and 1/3 innings allowing one hit and one earned run.  Braxton Hyde went 1 and 2/3 innings scoreless.  Buckley scored one in the fifth and Liberal answered to tie it.  But Buckley scored two in the sixth.
The state champion Rattlers finish 32-7.