Gilford LaRoss Bryan
Steven Rains - August 19, 2019 9:11 am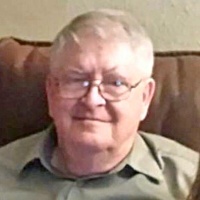 Gilford LaRoss Bryan, 80, of Goodwell, Oklahoma, passed away Saturday afternoon, August 17, 2019 at the Memorial Hospital of Texas County.
The son of R.C. and Marian C. (Pittaway) Bryan, he was born October 3, 1938 in Mutual, Oklahoma.  The Bryan family moved to the Goodwell area in 1951.  Ross graduated from Goodwell High School with the Class of 1956.  He attended OPSU in Goodwell, graduating with a BS in Industrial Arts and minor in Math.  Ross was a teacher, worked for Panhandle Eastern and was a self employed carpenter.   He served in the United States Marine Corps form 1956 to 1959.
Ross was united in marriage to Robba N. Skillings on June 12, 1960 in Goodwell.  He was an active member of the Guymon Church of the Nazarene and Goodwell Hilltoppers.  Ross was honored as Goodwell Eagles Number One Fan.
He is preceded in death by his parents, sister, Dormalee Bryan and brother, Waldo Bryan.
Survivors include his wife, Robba Bryan of the home; three children, Terry Bryan and wife, Marsha of Oklahoma City, Debbie Larsen and husband, Tyler of Sumner, Iowa and Linda Hammang of Colorado Springs, Colorado.  Survivors also include eight grandchildren: Tyson Bryan of Oklahoma City, Oklahoma, Crystal Bennett and husband, Gary of Yukon, Oklahoma, Allie Larsen of Iowa Falls, Iowa, Zach Larsen of Okinawa, Japan, Megan Larsen of Sumner, Iowa, Andrew Hammang and wife, Kim of Shell Rock, Iowa, Heather Gibson and husband, Casey of Boise City, Oklahoma and Christopher Hammang of Colorado Springs, Colorado; nine great grandchildren; one brother, Dewayne Bryan and wife, Sherrie of Liberal, Kansas, two sisters, Carol Heine and husband Richard of Denton, Texas and Kay Sheets and husband, George of Stillwater, Oklahoma; two aunts, Betty Bryan of Guymon, and Bertha Wake of Woodward, Oklahoma; niece, Carla Gleason of Dodge City, Kansas; several cousins and a host of friends.
Memorial services will be Thursday afternoon, August 22nd at 2:00 p.m. at the Guymon Church Of The Nazarene with Pastor Craig Shepperd officiating.  Family inurnment will be in the Goodwell Cemetery at a later date.  Memorials in memory of Ross may be given to St. Jude Children's Hospital; memorials will be accepted at the Bunch – Roberts Funeral Home, P.O. Box 1112, Guymon, Oklahoma 73942.
Friends can sign the online guestbook and leave condolences at www.bunchroberts.com.