New Mexico Stifles Seward
Brock Kappelmann - November 13, 2022 10:32 am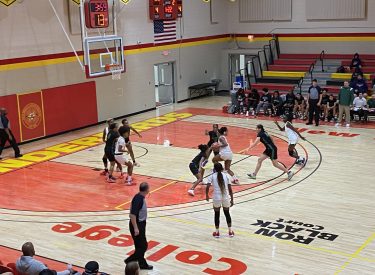 The Seward Lady Saints begin their season 0-2 after a 72-35 loss to the #8 New Mexico Thunderbirds Saturday afternoon at the Casper Event Center in Hobbs.   One day after their first opening loss since 1991, SCCC shot 18 percent in the loss.  Former Seward coach Austin Mefford is in his third year and second season as head coach of the reigning WJCAC champions.
The Thunderbirds led 16-8 after one quarter.  They extended their lead to 24-13, 29-17, and 34-17 at halftime.  NMJC led 54-22 after three quarters.
SCCC was 10-55 from the field and made 4-22 three pointers.  NMJC shot 46 percent.  The Thunderbirds out rebounded the Lady Saints 47-34.
Alianna Colon was the Epic Touch Player of the Game with 11 points.  Kylee Hunt scored 10.
Ironically, the 35 points for Seward were the least since the 2019-20 season when an Austin Mefford coached SCCC team lost 59-34 to Odessa at Midland.
Seward opens Jayhawk Conference play at Pratt Wednesday night at 5:30 with Saints Shoot-around at 5:15 on B107.5.