Maize South Ends Liberal's Season
KSCB News - November 8, 2014 7:22 am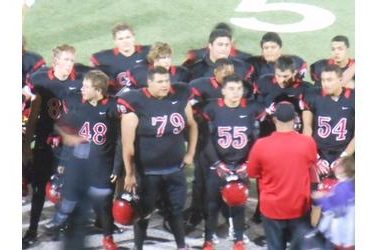 Just too many mishaps against Maize South. Numerous false start penalties on the offense and three turnovers were far too much to overcome. The Maize South Mavericks, in their first season as a 5A football team blanked the Liberal Redskins in a 5A playoff game 36-0 Friday night at Redskin Field.
The Redskin defense had their backs against the wall all night. They actually forced a three and out on the Mavericks' first possession. MSHS punted against the north wind but Liberal return man Kyler Thompson was hit as the ball hit his hands and the Mavericks recovered on the LHS 25. Korie Frausto lofted a 25 yard pass to Cole Koster at the 8:23 mark to give Maize South the lead. Liberal's offense then stalled. Maize South got the ball back but Liberal's Mershek Wiltshire intercepted a pass and returned it 40 yards to midfield. It was 7-0 Maize South after one quarter.
LHS began the second quarter punting against the wind and thanks to Maize South pressure, it was a short punt which Maize South returned to the LHS 21. Kale Bulloch's one yard run gave Maize South a two touchdown advantage at 14-0 with 7:35 to play in the first half. Liberal's offense continued to struggle and face long yardage situations due to false start penalties. Frausto's 50 yard run with 4:18 to play in the half made it 20-0 after the PAT missed. Frausto's three yard rushing touchdown with one second remaining in the half made it 27-0 at the half. Jordan Maxson's 24 yard touchdown run on their opening drive of the second half after a Liberla three and out gave Maize South the commanding 34-0 lead at the 10:39 mark of the third quarter. A Maize South safety after a bad snap into the endzone made it 36-0 with 19 second remaining in the third quarter. To the credit of the defense, they made two late goal line stands in what was already a blowout game.
Maize South accumulated 425 yards and Liberal had just 120 yards. Liberal finishes 4-6 and the Mavericks are 8-2 and play Salina South in Maize next week.