Lady Saints Lose 5th Straight to Finish Season
Brock Kappelmann - March 5, 2023 7:45 am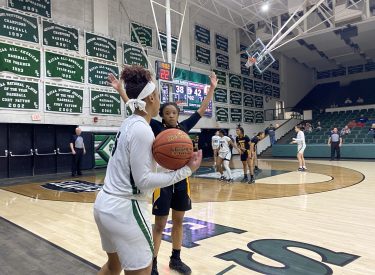 The day began with a great deal of optimism as the Seward Lady Saints built a huge first quarter lead against undermanned Garden City.  But the day finished in disappointment at the Garden City Lady Busters ended the Seward season 60-59 in overtime Saturday afternoon in a first round Region 6 Tournament game in the Green House.  Seward loses their fifth straight game to finish 14-17 despite a roster which includes four players who signed with NCAA Divison 1 school before the season.
The Lady Saints came out ready to play taking leads of 16-2 and 21-4 before a 21-6 lead after one quarter.  The faucet turned off for the rest of the game as Seward scored 9, 5, and 11 points in the other three quarters.  Garden City outscored Seward 18-9 in the second quarter to make it 30-24 at halftime.  The Seward skid continued in the third quarter as the Lady Busters dominated the quarter 17-5 and led 41-35 after three.  GCCC led 46-38 at the 7:00 minute mark.  Seward cut the lead to 46-43 with 3:06 to play.  It was 46-46 and Seward shot a three at the end of regulation but missed.  Halima Salat came alive late and hit a three in overtime to make it 54-51 with 2:58 to play.  Seward led 57-55 after another Salat three.
Seward shot 27 percent for the game and went 10-33 from three.  SCCC was 11-16 at the foul line.  Garden City shot 30 percent and went 1-8 from three and 19-26 from the foul line.  Seward committed 16 turnovers and GCCC had 18.  Fouls were a detriment for Seward as Garden City shot 10 more free throws.  Three starters, Tiana Winn, D'Arrah Allen, and De'Shawnti Thomas fouled out.
Halima Salat scored 22 and was 5-9 from three point range.  She was the Epic Touch Player of the Game.  She finished with 104 three pointers this season which is fourth all time.  She finished with 183 three pointers in two years at Seward which is third most.  D'Arrah Allen scored 11 and got off to a strong start but then encountered foul trouble.  De'Shawnti Thomas had 12 rebounds in the loss.
Garden City is 11-20 and beats Seward in the Green House for the third time in four games.  Seward finishes 14-17.  It's their worst season since a 7-23 season in 1991.  It's Seward's first losing season since 1992 (14-16).