Lady Saints Claim a Win Over Colby
Brock Kappelmann - November 24, 2021 5:40 am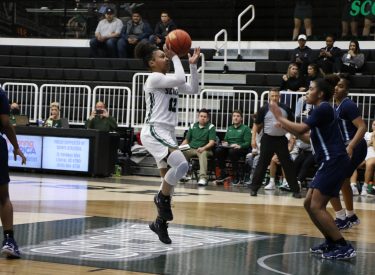 Kenny Hernandez
LIBERAL, Kan. – Seward County Community College defeats Colby Community College 90-78 on Tuesday night in the Greenhouse. The Lady Saints improves to 4-3 overall and 2-1 in conference play. Seward County led by 28 points in the contest but Colby responded to get the game within 11 points in the fourth quarter. The Lady Saints will be on the road at Dodge City Community College this Saturday, November 27th at 1 PM.
In the first quarter, the Lady Saints took an early 9-2 lead over the Trojans and never lost the lead. Seward County took a 21-11 lead into the second quarter. The Saints were able to establish their offense from the perimeter and create turnovers that allowed the Lady Saints to take the ten-point lead.
Seward County doubled Colby's score with 5:12 left to go in the second quarter with a 34-17 lead. Hulda Joaquim scored an and-1 with 50 seconds left in the quarter to give the Lady Saints a 49-2 advantage into halftime.
The Lady Saints took a 57-28 with 7:57 left in the third quarter. Colby went on a 23-10 to close out the quarter and the Lady Saints lead shrunk to 67-51.
In the fourth quarter, Seward County led 72-61 over Colby as the Trojans continued to cut into the lead. The game turned into a free throw contest and both teams traded off points. Seward County held on to the lead to defeat Colby 90-78.
Seward County will be on the road at Dodge City this Saturday at 1 PM with Saints Shoot-around at 12:45 on 107.5.