Hays Spoils Liberal's Softball Senior Night
Brock Kappelmann - May 1, 2019 7:32 am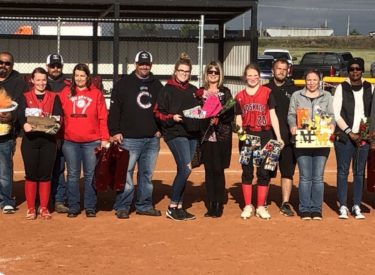 Hays swept Liberal on Senior Night at Liberal.  The game was pushed back to 4:45 after Tuesday morning's rain.  Hays won the first game 11-4 and 5-3 in game two.
In game one, Hays got off to a strong start with five in the first, two in the second, and two in the third.  Liberal had two in the first and second and trailed 9-4 after three.  Milly McClure was 3-4 and pitched five innings.  Whitney Hay was 2-3.  Liberal committed four errors while the Indians played spotless defensive softball.
In game two, Hays scored one in the second and two in the fifth.  The Lady Red struck for two in the sixth to make it 3-2.  Hays scored two in the seventh to make it 5-2 and LHS scored one.  Milly McClure pitched 6 and 1/3 innings allowing four earned runs.  Kaeleah Chaloupek drove home two runs.  Hays out hit Liberal 10-5.
Liberal is 8-6 and 0-6 in the WAC and Hays is 6-6 and 4-4 in the WAC.  Liberal goes to Johnson to play Stanton County on Thursday.