Former Saint and BJ Doran Invited to Major League Camp
KSCB News - January 17, 2014 7:03 am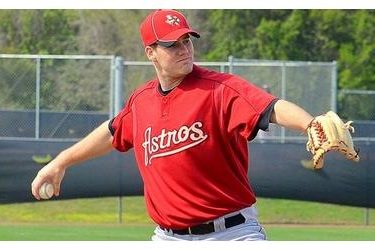 When former Saint Bobby Doran's phone rang last Wednesday, his conversation with Houston Astros Director of Player Development, and former 12 year Major League veteran Quinton McCracken, started as most chats between the two had. A quick update on Doran's offseason workouts and small talk, but this conversation would end differently and better than any dialogue the two had had in the past. After praising Doran for his work ethic and success in the teams Minor League system, McCracken broke the news to the 6'6 right-hander that he would be headed to the Astros Major League camp this Spring Training.
Doran starred for the Saints during the 2008 and 2009 seasons. He racked up a 14-3 overall record in his two seasons, giving him the fourth highest winning percentage (.824) in school history. As a sophomore for Seward, Doran won 10 games and posted a team best 2.58 ERA in 91 1/3 innings of work. He started 14 games and finished 6 of them before being named 1st Team All-Jayhawk West and 2nd Team All-Region VI.
Following his sophomore season with the Saints, Doran was selected in the 36th round of the Major League Baseball draft by the Pittsburgh Pirates, but decided to forego his professional opportunity to fulfill his commitment to Texas Tech University.
The decision paid off for both Doran personally and the Red Raiders in 2010. Doran led Texas Tech with a 4.35 ERA as a junior and also led the Raider pitching staff in starts (13) and innings pitched (89.0) and finished second on the team behind current Colorado Rockies flame thrower Chad Bettis in wins with 5 and strikeouts with 81.
After his breakout year on the national stage in the Big 12, Doran was selected in the 4th round of the Major League Baseball draft by the Houston Astros in the Summer of 2010, where he decided to ink with his hometown team to begin his professional career.
Doran has done nothing but win since joining the Astros farm system. He is 30-16 in three plus seasons in the minor leagues, including a 14 win year in 2012 and an 11-2 season in 2013. Doran has moved quickly through a loaded Astros system. He started his career at short season-A Tri-City in 2010 and was assigned to High-A Lancaster to start the 2011 season. In 2012 he again began the season with Lancaster, but after an 8-4 record through 17 starts, he was promoted to Double-A Corpus Christi where he continued his success with a 6-2 record in 10 starts for the Hooks. In 2013 he opened the year with Corpus Christi and was one of the top pitchers in the talent laden Texas League, going 8-2 with a 3.26 ERA before getting a late season call up to Triple-A Oklahoma City. In a few spot starts in Oklahoma City and a stint late in the year with the Redhawks, Doran was a perfect 3-0 to run his 2013 record on the mound to 11-2.
When asked what his first reaction of the news was, Doran said "I'm really excited for the opportunity. This is another big step, but I feel like I am ready to make it and see what happens this Spring."
Doran will break camp on February 15th with an Astros team filled with intrigue for the upcoming season. The 'Stros will send a number of highly touted prospects to camp with Doran including former #1 overall picks Carlos Correa and Mark Appel, as well as sweet swinging outfielder George Springer.
With the call to join big league camp this Spring, the former Saint Doran will have an outside chance at starting the year with the Astros, but will likely open 2014 with Triple-A Oklahoma City.
Roy Allen