Coffeyville Shocks Lady Saints on Sophomore Night
Brock Kappelmann - February 20, 2022 7:43 am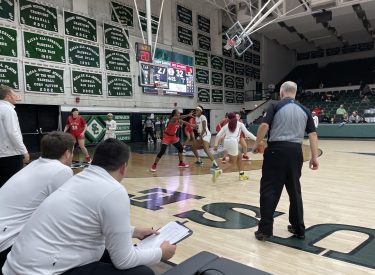 We've seen something similar.  After a big road win at Independence and a 3-0 road trip, Seward returned home to lost to Garden City.  Fast forward to Saturday night.  Coming off a big win at Hutchinson, Seward falls at home to middle of the road Coffeyville 63-60 Saturday night in the Green House.
Seward only out scored the Lady Ravens in the fourth quarter.  Coffeyville lead 17-10 after one quarter.  Coffeyville led 32-25 at the half and led 46-39 after three.  A big De'Shawnti Thomas three point play gave Seward a 60-59 lead late but Coffeyville closed it out.
Seward shot poorly at 27 percent from the field.  The Lady Saints were 8-31 from three point range.  Seward was just 15-27 from the foul line for 56 percent.  Coffeyville shot 44 percent from the field and made 11-16 free throws.  Seward lost despite out rebounding the Lady Ravens 40-34.
De'Shawnti Thomas continues her emergence and produced 15 points and seven rebounds.  Seward's starters were 1-14, 2-6, 1-6, 2-9, and 1-4.
This was Coffeyville's first ever win in Liberal.  Coffeyville is 17-10 overall and 11-10 in the Jayhawk.  Seward falls to 21-8 overall and finishes 17-7 in the Jayhawk.  Seward will host a Region 6 Tournament quarterfinal game March 1 on 107.5 and the KSCB and The Legend App.