WIHA To Expand Into Western Kansas
KSCB News - October 21, 2010 12:00 am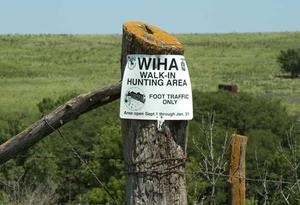 A multi-million dollar walk-in hunting project has the potential to greatly increase the number of acres of walk-in hunting and fishing in Kansas.
Kansas will receive $1.5 million a year for three years for a total of 4.5 million to establish new walk-in hunting and fishing areas across the state, said Tom Lang, Kansas Department of Wildlife and Parks fisheries program specialist.
Funding for the grant comes from the United States Department of Agriculture, goes through the Farm Service Agency and KDWP is responsible for dispersing funds.
Kansas and Pennsylvania are tied for receiving the highest amount of grant funding and only three states received a total of over $1 million in grants for increasing walk-in hunting and fishing areas.
This money comes on top of existing KDWP walk-in hunting and fishing programs.
??This is going to be a huge shot in the arm for these programs, ? Lang said. ??It ??s going to increase access to private hunting and fishing areas.
Currently Kansas ??s walk-in hunting and fishing has 200 properties for fishing, 90 miles of streams and 1,000 acres of ponds.
The influx of funds for three years to lease private property for hunting and fishing will have a positive impact in the western part of the state.
??This will be a real good deal for the fish program. It will expand west where there are very limited resources, ? Lang said.
The grant money will help provide incentive for landowners to open their private ponds and streams to the fishing public as well as open more lands for hunting. The grant money will make it attractive enough for landowners to sign up lands.
The walk-in hunting and fishing land is leased from landowners. This is like paying the landowners on behalf of the public to use the land.
Landowners get a special bonus when the lease property for walk-in fishing. State regulations prohibit KDWP from stocking private ponds but if homeowners lease their ponds then KDWP can stock ponds with game fish.
Leasing ponds or lands also removes the limited liability on landowners.
When new land or water is leased it is added to the KDWP hunting and fishing atlas that shows all walk-in hunting and fishing areas across the state. The atlas is available wherever licenses and regulations are available.
Once a property is designated a walk-in hunting and fishing area, it is not necessary to ask the property owner for permission to hunt or fish. In fact KDWP asks that hunters and fishermen not contact the landowners because they have already taken care of that with the lease agreement. They just need to go to the property and follow the regulations regarding the activity. A regular hunting or fishing license is needed to use walk-in hunting or fishing facilities.
The walk-in hunting and fishing program began in 1998 and has greatly expanded the hunting and fishing opportunities across the state.