Video Visitation Now Available at the Seward County Jail
Joe Denoyer - March 31, 2021 4:41 pm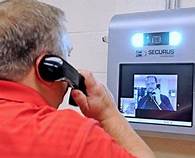 New Communication Tool Creates Opportunity for Incarcerated Individuals to Engage with Family and Friends Through Digital Face-to-Face Visits.
The Seward County Sheriff's Office today announced that persons housed in the Seward County Jail will have access to Securus Video Connect. This connection will help them stay connected with their friends and family. This Video technology has been made possible through the county's existing partnership with Securus Technologies, a vendor that provides technological tools to Correctional facilities and incarcerated individuals across the United States.
Sheriff Gene Ward would like the Citizens of Seward County to know. "That, encouraging a connection between persons housed in detention facilities, their loved ones have been proven to reduce the rate of recidivism among previously convicted persons". "This new technology will equip our facility with an advanced communication option and promote better re-entry outcomes.
The video system sessions are offered throughout the day and are available for use on centrally located terminals. Each of the terminals has been placed with social distancing in mind. This arrangement also includes a terminal located in our contact visitor room for onsite visitor convenience.
Securus accounts are available on the web as well as through apps for android and I-phone. Securus charge to its users of $8.99 for a 30-minute session will be applied to the host visitors account. This technology allows visits with persons housed in the Seward County Jail from anywhere around the world. Or right here in the Law Enforcement Center.
We are excited for the new system and rest assured the video visitation and phone calls are monitored for safety purposes.
Additional information is available through the Seward County Sheriff Office.