UPDATE: Taylor's Name To Be Removed/Officials Wait For Ruling In Senate Race
KSCB News - September 18, 2014 10:17 am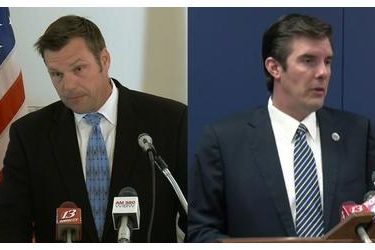 The Kansas Supreme Court has ordered the state to remove U.S. Senate Democratic nominee Chad Taylor's name from the ballot, in a ruling that could influence the national fight for control of the Senate.
The court's decision Thursday leaves Democrats without a nominee, potentially making it easier for independent candidate Greg Orman to defeat three-term Republican incumbent Sen. Pat Roberts. The GOP has counted on Roberts winning re-election on Nov. 4 as they seek to recapture a Senate majority.
Taylor withdrew from the race to avoid a split of anti-Roberts votes. But Republican Secretary of State Kris Kobach, who backs Roberts, declared that Taylor didn't fully comply with a state election law in submitting his letter of withdrawal.
The Supreme Court says Taylor's formal letter was sufficient.
———————————————————————————————————————————————
Officials are waiting for a ruling from the Kansas Supreme Court on whether the Democratic nominee for U.S. Senate must be removed from the ballot.
The court's consideration of Democrat Chad Taylor's petition to avoid being listed as a candidate Nov. 4 comes with counties facing a Saturday deadline to begin sending ballots to military personnel overseas.
Taylor's decision to end his campaign against three-term Republican Sen. Pat Roberts put the race in a national spotlight. Some Democrats pushed Taylor to withdraw to help independent Greg Orman's chances of beating Roberts by preventing a major split in anti-Roberts votes.
But Republican Secretary of State Kris Kobach said Taylor didn't comply with an election law limiting when nominees can withdraw. Taylor then appealed to the Supreme Court.