Tornadoes and Hail Hit Southwest Kansas
KSCB News - May 25, 2015 6:47 pm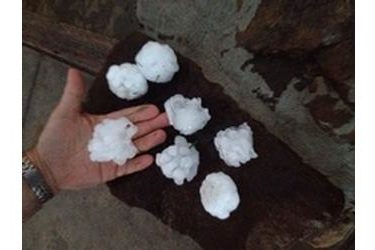 DODGE CITY, Kan. (AP) – The National Weather Service says a super cell storm swept across Southwest Kansas, spawning at least two tornadoes Sunday night. By 9:34 p.m. a cone shaped tornado was reported theree miles west-southwest of Plains and just northeast of Kismet on the Meade-Seward County line. The storm tracked into Meade County and at about 10 p.m. there was a report of damage to a barn two miles northwest of Plains from a tornado touching down in the area. The National Weather Service says the tornado appeared to be about a mile wide based on visual reports. It damaged an outbuilding and overturned about a dozen pivot irrigation sprinklers. The same storm produced baseball sized hail in Liberal and caused tornado sirens to sound off in town. The tornado dissipated north of Plains.
Michael Scott, meteorologist with the weather service in Dodge City, said Monday that heavy storms hit southwest Kansas late Sunday night, producing a tornado that reportedly touched down in Ford County.
No injuries have been reported.
Scott says damage has been reported to a wind turbine, power lines and at least one home. He says crew are assessing the damage to determine whether the damage was from a tornado.
He says a trained spotter also reported a wedge tornado in the area late Sunday, but that had not been confirmed.
More storms are expected in the area into Monday night, but Scott says they're aren't expected to match those from Sunday.