Tornado Watch Posted for Listening Area
KSCB News - May 29, 2013 1:34 pm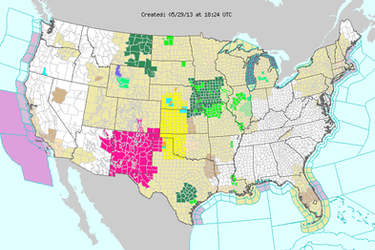 TORNADO WATCH OUTLINE UPDATE FOR WT 239
NWS STORM PREDICTION CENTER NORMAN OK
1225 PM CDT WED MAY 29 2013

TORNADO WATCH 239 IS IN EFFECT UNTIL 1000 PM CDT FOR THE
 FOLLOWING LOCATIONS

KSC007-009-025-033-047-051-053-055-057-063-067-069-071-075-077-
081-083-093-095-097-101-105-109-119-129-135-145-151-155-159-165-
167-171-175-185-187-189-195-199-203-300300-
/O.NEW.KWNS.TO.A.0239.130529T1725Z-130530T0300Z/

KS
.    KANSAS COUNTIES INCLUDED ARE

BARBER               BARTON              CLARK
COMANCHE             EDWARDS             ELLIS
ELLSWORTH            FINNEY              FORD
GOVE                 GRANT               GRAY
GREELEY              HAMILTON            HARPER
HASKELL              HODGEMAN            KEARNY
KINGMAN              KIOWA               LANE
LINCOLN              LOGAN               MEADE
MORTON               NESS                PAWNEE
PRATT                RENO                RICE
RUSH                 RUSSELL             SCOTT
SEWARD               STAFFORD            STANTON
STEVENS              TREGO               WALLACE
WICHITA
$$



---
Hazardous Weather Outlook
HAZARDOUS WEATHER OUTLOOK...AMENDED
NATIONAL WEATHER SERVICE DODGE CITY KS
515 AM CDT WED MAY 29 2013

KSZ030-031-043>046-061>066-074>081-084>090-301015-
TREGO-ELLIS-SCOTT-LANE-NESS-RUSH-HAMILTON-KEARNY-FINNEY-HODGEMAN-
PAWNEE-STAFFORD-STANTON-GRANT-HASKELL-GRAY-FORD-EDWARDS-KIOWA-
PRATT-MORTON-STEVENS-SEWARD-MEADE-CLARK-COMANCHE-BARBER-
515 AM CDT WED MAY 29 2013 /415 AM MDT WED MAY 29 2013/

THIS HAZARDOUS WEATHER OUTLOOK IS FOR PORTIONS OF CENTRAL...SOUTH
CENTRAL...SOUTHWEST AND WEST CENTRAL KANSAS.

.DAY ONE...TODAY AND TONIGHT

THERE WILL BE A CHANCE FOR SEVERE THUNDERSTORMS THIS AFTERNOON
AND EARLY TONIGHT ALONG AND EAST OF A DRYLINE WHICH IS EXPECTED TO
EXTEND FROM LAKIN TO ULYSSES TO NEAR HUGOTON EARLY THIS AFTERNOON.
THE PRIMARY HAZARD WILL BE TENNIS BALL SIZE HAIL, AND WIND GUSTS
UP TO 75 MPH. A FEW TORNADOES WILL ALSO BE POSSIBLE LATE AFTERNOON
AND THIS EVENING.