SWMC Hosts Mock Emergency Training
KSCB News - September 17, 2015 4:17 pm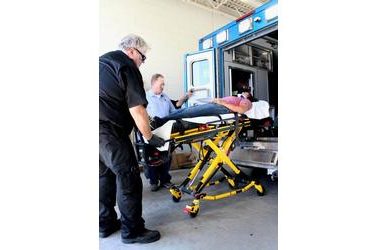 More than 70 patient care team members and local emergency responders took part in a mock disaster drill Tuesday at Southwest Medical Center. The drill was designed as an inter-agency project to help test the preparedness and response of local and regional response teams.
A full scale, mass-casualty drill was carried out by Southwest Medical Center, Seward County Sheriff's Department, Seward County EMS, Seward County Emergency Management, Eagle Med, and LifeTeam, with assessment assistance from the Liberal Police Department. Normal hospital Emergency Department operations and patient care were not affected by the drill.
The mock disaster drill was designed to help meet Joint Commission criteria for hospital response plans, as well as identify areas for improvement in care and coordination with local emergency responders, as Southwest Medical Center's Emergency Department Physician Director, Dr. Stephen Resnick, explained.
"Our focus as an emergency department is to provide the highest standard of care to each patient coming in for treatment. Mock disaster scenarios serve as an important teaching tool to measure our abilities as a team and identify opportunities for improvement," Dr. Resnick said. "Bringing additional emergency response services into this drill will allow us to sharpen our processes and better coordinate the hospital's and community's resources to meet the needs of our community."
The scenario simulated a multiple vehicle accident near the Kansas and Oklahoma state line using volunteers to serve as patients for the scenario.