Susan Nguyen Earns Top Seed at Regionals
KSCB News - October 4, 2010 12:00 am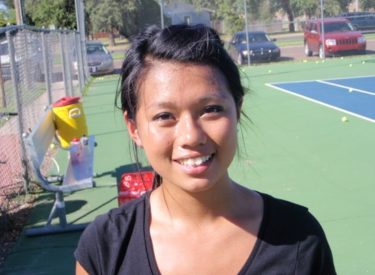 The Lady Redskin Tennis Team finishes 9th out of a field of 14 at the McPherson Invitational on Saturday. Senior Susan Nguyen positioned herself to become the #1 seed at the upcoming Regional Tennis Tournament by upsetting the #3 seed from 6A Derby and by avenging earlier losses to Colby ??s defending champion.
Individual results:
#1 Singles ??Susan Nguyen went 4-1 on the day earning the 3rd Place medal. She defeated Chloe Schellhorn from Topeka West 8-1. Then in a match she wasn ??t picked to win, Susan upset Derby ??s Hannah Crawford 8-7 (8-6 Tie-breaker). Susan fell to defending champion Mariah Vargas from Ark City 0-8, but found herself competing for 3rd Place against her year-long foe, Caitlyn Wark from Colby. This time, Susan manhandled the 4A Champion 8-3 to avenge earlier losses and securing the 3rd Place medal.
#2 Singles ??Kathy Nguyen went 1-2 on the day. She lost to Hutchinson ??s Linda Glabiszewski 4-8, lost to Newton ??s Avery Vogts 3-8, then bounced back to defeat Garden City ??s Kelsey Stewart 8-4.
#1 Doubles ??Lauren Harp & Desirae Courkamp went 0-3 on the day. They lost to Hoisington ??s Funk/Bitter 2-8, lost to Great Bend ??s Schartz/McVay 3-8, then lost to Garden City ??s Garder/Silva 4-8.
#2 Doubles ??Katie Plunk & Jacqueline Nguyen went 2-3 on the day. They lost to Ark City ??s Jackson/Hall 1-8, lost to Topeka West ??s King/Hemmer 2-8, lost to Garden City ??s Gardner/Silva 4-8, then defeated Hoisington ??s Lacey/Rodiz 8-5.
The Lady Redskins play in the WAC Championship in Great Bend on Monday, October 4th, then travel to McPherson on October 8th for Regionals.