Storm could leave parts of Kansas WHITE!
KSCB News - December 30, 2010 10:08 am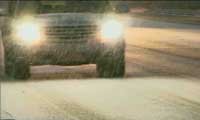 A winter storm could leave parts of Kansas covered in white.
A winter weather advisory is in effect in NW Kansas today. Snow is expected to start later today. Some areas could see up to four inches of snow.
Smaller amounts of snow are expected in North Central and Southwest Kansas.
South Central Kansas, including the Wichita area, could experience some freezing drizzle overnight.