Stevenson Lifts Saints Over Garden City
KSCB News - February 13, 2014 7:14 am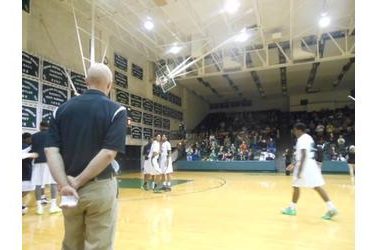 Hours after being named the NJCAA Player of the Week, Niem Stevenson poured in a career high 36 points on 12-18 shooting as Seward beat visiting Garden City 69-60 Wednesday night in the Green House. He was 4-5 from three point range. Stevenson's shooting was needed as he was the only Saint to score in double figures.
The Saints also enjoyed a historic night defensively. Garden City was 2-25 in the first half which is the lowest amount of field goals in a half the Saints have ever allowed. Garden shot eight percent in the first half and 29 percent for the game.
The Saints led 13-5 after the Broncbusters made their first field goal at the 8:10 mark. Seward led 27-9 at halftime. Seward led 51-35 before Garden City cut the lead to six at 60-54 with :56 seconds left. The Saints are in first in the Jayhawk West at 8-2 and 18-8 overall while winning their fifth straight against the rival Busters. Garden is 19-7 overall and 5-5 in the Jayhawk West as Liberal's Jade Cathey scored six in the loss.
Seward will be featured during the Green Line tonight at 6 at Billy's on 1270 and kscbnews.net. Seward plays at Dodge City Saturday night at 8 on B107.5 and kscbnews.net.
Cowley def Butler 83-81*
Coffeyville def Allen 84-67*
Hutchinson def Colby 83-79*
Cloud County def Dodge City 74-64*
Pratt def Barton 71-59*
Independence def Neosho County 91-84*
Seward County def Garden City 69-60*