Southwest Symphony Society To Present Spring Concert
Joe Denoyer - April 24, 2017 2:32 am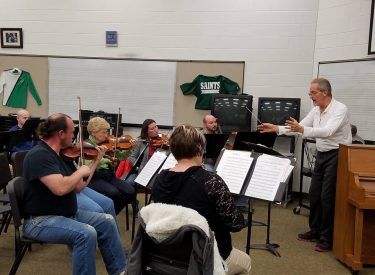 The Southwest Symphony Society orchestra will present its spring concert "Your Ticket to Broadway" at 2 p.m. Sunday, April 30, at the Showcase Theater at Seward County Community College, under the direction of Conductor Charles Jeffrey. The talented group of local musicians in the orchestra will be joined by several vocal soloists. Admission is a free-will donation and refreshments will be served.
"We wanted the spring concert to showcase the Broadway show tunes that everyone loves," said Jeffrey. "We also wanted to be able to highlight some of our local vocal talent as well as our orchestra musicians."
The program will include "I Dreamed a Dream," from Les Mis, "Somewhere over the Rainbow," from Wizard of Oz, "The Impossible Dream," from Man of La Mancha, "For Good" from Wicked and selections from My Fair Lady, Peter Pan, and The Sound of Music.
Vocal solos will be performed by Alyssa Fisher, Heather Powell, Tanner Aubrey, Lexi Martin, and Angela Smiddy.
Ensemble members include: Strings – Bethany Adams (concertmaster), Blinda Massa, Nancy Allen, Alison Rice, and Bill Anton; Woodwinds – Alisa Henderson, Jerilee Rediger; Shelly Rowson, Brian Smolinsk, and Andre Jones; Brass – Brian Stuckenschmidt, Troy Skinner, Randy Stewart, Elizabeth Denoyer and Josiah Smiddy; Percussion – Mathew Lobmeyer; Piano – Alisa Henderson with Donna Apsley as the rehearsal pianist.
This is the second concert with Jeffrey as the orchestra conductor. "We are thrilled to have Charlie as our new conductor," said Kay Burtzloff, president of the Southwest Symphony Society. "He brings a strong musical background in both instrumental and vocal music as well as proven experience as the conductor with the Portland, Oregon, Theater Orchestra. I think the concert has really grown under Charlie."
The Southwest Symphony Society is a Liberal non-profit organization dedicated to promoting classical and contemporary music in the community utilizing the talents of local and professional musicians. For more information, contact Kay Burtzloff at 620-629-0203.