Southwest Medical Center Takes First With Think Pink Campaign
KSCB News - August 18, 2011 10:37 am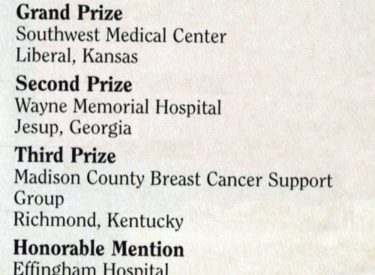 Southwest Medical Center's efforts to bring breast cancer awareness to the forefront and honor those who have been affected by the disease was nationally recognized again recently when they took home first place in a New York-based company's annual contest.
The contest, hosted by Positive Promotions had an estimated 200 entries from across the country.
"Positive Promotions is a promotional products company," said Southwest Medical Center Radiology Director Kelly Denton. "A spokesperson for their company told us this was their sixth year to offer the contest, which was started in 2005. She also said that it was very difficult to judge the entries this year, and in fact they changed it up to include two honorable mentions because there were just too many good entries to decide."
SWMC Public Relations Director Nancy Kletecka said when Denton told her she was entering their event in the contest it was like telepathy had been at work.
"I told her I was just thinking the same thing," Kletecka said. "Kelly did a great job on our contest submission – it couldn't have been in better hands. I think it also makes a difference to have a passion for what you are doing. We both hold this program so near and dear to our hearts because we have each lost a family member to this disease."
The theme for the 2010 Think Pink program hosted by Southwest Medical Center was "The Hunt For A Pink October". A unique part of last year's program was a video entitled "Your Life In Three Words".
"We were able to get the video done because of a partnership we formed with Epic Touch," Kletecka said. "Thanks to the talents of Epic's Marketing and Creative Designer Chris Garrison, the assistance of their Marketing Director Linda Ward and all who participated in the project – we had an awesome video. A portion of it received even more national attention when it was aired on Good Morning America's Your Life In Three Words segment."
Both Southwest Medical Center and Epic are strong believers in what can happen when the right team comes together.
"This is proof that a team effort pays off," Ward said.
President and Co-Owner of Epic, Bob Boaldin agrees.
"Once again, Southwest Medical Center has shown why it's such an important part of the community through leadership in the fight against breast cancer. Awards are a way to recognize these efforts and congratulations are in order for all those involved in the 2010 Think Pink campaign that has received grand prize honors from Positive Promotions," Boaldin said.
Dian Boaldin, Epic PCS Secretary and owner offered her congratulations as well.
"We are happy to have been a partner with Southwest Medical Center on this year's Think Pink campaign and the 'Your Three Words' project. Helping save lives through the education and awareness of breast cancer and cancer is a praiseworthy goal. Much hard work, dedication and creativity went into the project and the public was educated and made aware of many issues such as the importance of early detection, treatment options, and was given – most importantly – hope. Congratulations on a well done project," Dian said.
Kletecka said it says something for a project when you hear the reactions from those who witness it.
"The spokesperson for Positive Promotions told Kelly that she couldn't watch our video a second time, because it made her cry," Kletecka said.
Southwest Medical Center was featured in Positive Promotions' 2011 Product Catalog with the other winners in a three-page area in the center of the catalog. The winners were also to be mentioned on the company's Facebook page.