Softball Duo Wins KJCCC's Top Weekly Honors
KSCB News - May 1, 2013 2:08 pm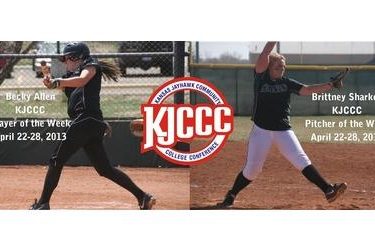 Following a 3-1 week for the Seward County Lady Saints,
a pair of Seward players have won the final Jayhawk West Conference
Player and Pitcher of the Week awards of the 2013 season. Seward
freshman outfielder Becky Allen was named the Jayhawk West Player of the
Week and Brittney Sharkey was named the Pitcher of the Week in a release
from the conference office on Tuesday.
Allen hit in all four Seward games over the past week,
leading the Lady Saints to a 3-1 record. Wednesday against Colby she
went off. In game one against the Lady Trojans she was 2 for 3 with 2
home runs and 3 RBI's and in game two of the double header she was again
2 for 3 with a home run and 3 RBI's. Against a 50 win team in Otero on
Sunday she was again 4 for 6 on the day, going a perfect 3 for 3 with a
run scored in game two. She hit .667 on the week and slugged 1.250
while homering 3 times and driving in 6 runs. It is the first time she
has been named the league's Player of the Week.
Sharkey was 2-0 this week, picking up complete game wins
against Colby and Otero. Wednesday against the Lady Trojans she allowed
just 1 run in 6 innings of work, leading Seward to an 11-1 win. On
Sunday against the nation's #3 ranked offense in Otero she went the
distance and yielded just 3 runs in Seward's come from behind 4-3
victory. It is the 3rd time this season and 4th time in her career
that she has won Pitcher of the Week in the Jayhawk West.