So Grand to be Green
KSCB News - May 16, 2011 9:09 pm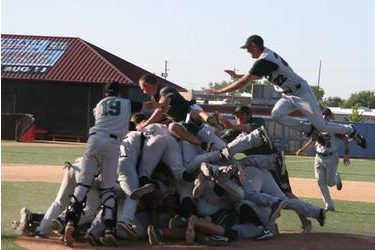 The Seward County Saints are Grand Junction bound. The Saints won the Region 6 baseball championship with a 5-2 win over Colby Monday evening at Lawrence-Dumont Stadium in Wichita. The Saints play May 28 at 7:30 mountain time in the JUCO World Series in Grand Junction, Colorado. It's Seward's second trip to JUCO baseball paradise after placing 5th in 2004. Seward freshman lefty Keegan Hucul pitched five scoreless innings in relief for the win. Tyler Hill was 4-5 with an RBI. Colby committed four errors and stranded 15 runners on base in finishing 42-20.
Seward plated three in the first thanks in part to a pair of Trojan errors. JT Bean hit a sacrifice fly and Jon Mestas singled home a run. The Saints scored the other run on a throwing error. Colby scored single runs in the first and third against starter Gavin Glanz who last four innings. That score stood until the guys in green scored a run in the seventh when Tyler Hill chased home Jake Barrios with a single. Willie Gustin singled home another run in the eighth scoring Brittain Ibbotson. Hucul worked a 1-2-3 ninth for the win with the final out going to Gustin in left. Ironically, Seward won the 2004 Region 6 title when a Cowley hitter flied to left to Sean Taylor.
The Saints have won eight straight and 22 of 25 to improve to 44-18.