Sleeping Trespasser Arrested
KSCB News - October 27, 2016 4:11 pm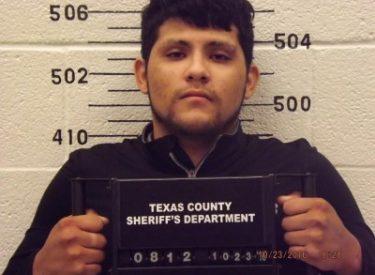 According to a story in the Guymon Daily Herald, a Guymon man has been arrested for breaking and entering in a strange series of events where he was found asleep on the victim's couch by police officers.
Early Sunday morning, a Guymon Police Department officer was dispatched to a residence on N.W. 13th St., where he was met by the female resident in the driveway. The resident informed the officer she knew the identity of the man inside her home, asleep on her couch, and that she knew the male on her couch because he was friends with her son.
Police said 19-year-old Geovanni Bonilla was allegedly still asleep on the couch inside the residence. When officers entered, he was awoke. Bonilla claimed he went to the home to borrow a phone charger, according to a filed affidavit, and found the front door of the residence unlocked.
Bonilla advised officers that he sat on the couch to await the resident's return, where he fell asleep. Officers arrested Bonilla for breaking and entering.
The resident informed officers that Bonilla had sent inappropriate messages to her through Facebook on Oct. 21, asking her if she "wanted to hook up and have sex", according to the affidavit. Officers obtained images of the messages shown to them by the resident.
The resident was advised by officers to check her home to ensure nothing was missing. Officers were informed everything appeared to be normal.
Bonilla was released to the Texas County Detention Center for booking. Bond was set at $2,500 with the condition of no contact with the alleged victim. If convicted, Bonilla faces a fine of up to $500, or imprisonment of up to one year or both.
Bonilla was under a deferred sentence for charges of driving under the influence by a person under 21 and unsafe lane use. Filing for an application to accelerate a status hearing for fines and costs was granted, and a bench warrant was issued for Bonilla's arrest.
Guymon Daily Herald