Skins Work Extra to Sweep Garden City
KSCB News - May 7, 2013 6:54 am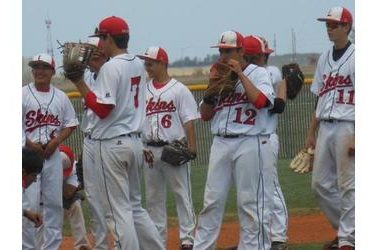 Liberal swept a WAC double header over rival Garden City Monday at the Liberal Baseball Complex. The Redskins won 7-2 and 8-7 in 10 innings.
In game one, freshman Jared Hasik tossed a two hitter while striking out seven. Hasik was also 2-3 with two RBI's while Christian Hernandez and Junior Acosta were both 2-3 with an RBI each. Liberal's big inning was a five run second inning.
Liberal appeared to have game two under control with a 6-2 lead after four and a 7-3 lead into the seventh before the Buffaloes rallied for a four run seventh to tie it and send the game to extra innings. Christian Hernandez pitched six solid innings for the Redskins in a no decision but the Buffs got to the Skins bullpen. Albert Aldaz saved Liberal's bacon out of the bullpen with three scoreless innings for hte win. Tim Fitzgerald not only made a great diving catch in center field, he delivered the game winning walk off hit to score Collin Ware in the bottom of the 10th. Fitzgerald was 3-4 at the plate with two RBI's. Aldaz was 2-3 while Jared Hasik was 3-5.
Liberal is 9-9 and 2-4 in the WAC while Garden City falls to 3-14 overall and 0-6 in the WAC. Liberal plays at Hays Tuesday to wrap up the regular season.