Seward Fireballer Signs at ORU
KSCB News - November 17, 2011 6:39 am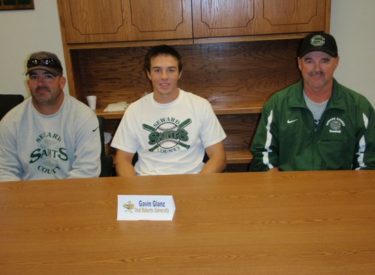 A hot commodity among Division I Baseball programs
around the country, Seward County right-hander Gavin Glanz has made his
decision for the 2012-2013 season and it will be to attend Oral Roberts
University in Tulsa, Oklahoma where he will join the Summit League
Champions and Coach Rob Walton next season.
Glanz was a perfect 6-0 last season as a freshman for
the Saints, helping lead Seward to the JUCO World Series by starting on
the hill in both the Sub-Regional and Region Championship games. He
then took his blazing fastball to the mound in the World Series where he
threw a complete game, allowing just 1 earned run in a Seward
elimination game win over South Georgia. Glanz was third on the team
with 72 innings pitched in his rookie season and ended the year with the
unblemished record and a solid 4.50 ERA. Glanz fanned 43 opposing
batters and did a good job of keeping the ball in the park in a
conference often tough to do so, allowing just 2 home runs, the least of
any Saints starter on the year.
He joins an Oral Roberts squad coming off of a 39 win
season and their 13th straight Summit League Title. The Golden Eagles
then swept through the Summit League Tournament with three straight wins
to reach their 24th NCAA Regional in school history. They then traveled
to Fort Worth for arguably the toughest of the 16 regionals around the
country where they drew 10th ranked TCU, 22nd ranked Oklahoma, as well
as 40 win Dallas Baptist. After falling in their opening game of the
regional to Team USA right-hander Andrew Mitchell and TCU, the Eagles
rebounded to not only knock off and eliminate Oklahoma in the next
round, but followed that by eliminating the Horned Frogs on Sunday to
reach the Regional Final. The Golden Eagles pulled yet another upset by
beating Dallas Baptist in the first championship game before nearly
pulling off a miraculous comeback in the winner take all title game but
fell 11-9 to end their season one game short of advancing to the
Super-Regionals.
"With as easy as the ball gets out of his hand and the
tools that he possesses on the mound, if Gavin can continue to improve,
he will have a long future of baseball in front of him" Saints Head
Coach Galen McSpadden said about his ace. "I liked ORU because of their
baseball tradition and their outstanding scholastic reputation" Glanz
said. "I am focused on this year at Seward right now and really want to
get back to the World Series, but I am also excited at the same time for
the future and what Oral Roberts has to offer when I am done here" he
continued.
Roy Allen