Seward Dominates Hutch
Brock Kappelmann - September 29, 2021 1:51 pm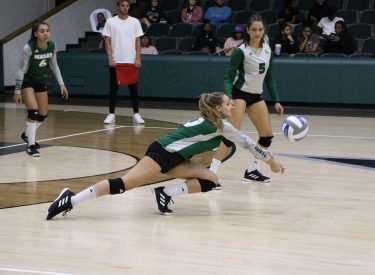 LIBERAL, Kan. – Seward County Community College defeats Hutchinson Community College in straight sets on Tuesday night in the Greenhouse. The No. 10 Lady Saints took care of the Blue Dragons with the final set scores 25-13, 25-14, and 25-20 to improve to 12-3 on the season and 5-2 in conference play. Seward County is back in action Wednesday, September 29th at Pratt Community College to continue conference action.
In the first set, the Lady Saints jumped out early on the Blue Dragons to lead 11-4 and continued their dominance throughout the first set. Seyun Park provided a block in the middle to give Seward County a 21-7 lead after a 10-2 run. Park finished the first set with a kill in the middle to win the set 25-13.
To start the second set the Lady Saints had a 7-2 advantage and used their momentum from the first set to keep the match in their favor. Sarah Cruz had a monster kill from the outside to give the Lady Saints a 16-6 lead in the second set. Similar to the first set Park ended the set with a kill as Seward County won the second set 25-14 to take a 2-0 match lead.
The third set started with the Blue Dragons taking their first lead of the match with an 11-10 advantage. Seward County responded with three straight points to take a 13-11 lead but Hutchinson did not go down without a fight. After a Skylar Wyllie block in the middle, the Lady Saints led 18-15 and looked to close out the match. Cruz connected on the final kill of the match to give the Lady Saints a 25-20 victory over the Blue Dragons.
Seward County was led by Cruz with 11 kills, with a .500 hitting percentage. Park added eight kills, and Wyllie had six kills in the sweep for the Lady Saints.
Seward County will be back in action against the Beavers on Wednesday night with the live stream through Pratt will be pay per view.