Seward County Fire Press Release On Groendyke Fire
KSCB News - January 14, 2016 12:49 pm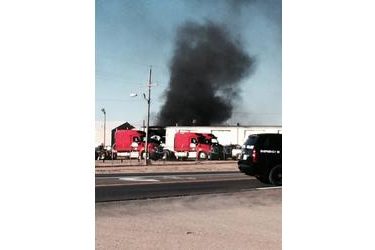 On Tuesday January 12, 2016 at 2:30pm Seward County Fire Rescue and Seward County EMS were dispatched to the 2100 Block of Highway 83, south of the City of Liberal for a reported explosion with victims.
Units arrived on scene to find a Commercial Metal Construction type building with heavy smoke and fire showing. Arriving units requested mutual aid assistance from the City of Liberal Fire Department, Turpin Fire Department, and Tyrone Fire Departments.
Units pulled back due to concerns of a larger explosion. Units then re-engaged the fire using foam operations. A total of four patients, three being transported to Southwest Medical Center with critical injuries, one patient was treated at the scene and was released. Highway 83 and Kansas Avenue was closed for a period of time and an evacuation order was issued for the surrounding area for approximately two hours.
Seward County Sheriff's Office, Liberal Police Department, Kansas State Highway Patrol, and Oklahoma Highway Patrol assisted fire units with traffic control and evacuation orders. The Kansas State Fire Marshal's Office was on scene following the incident and continued their investigation of the scene through the day Wednesday. Investigators concluded the onsite investigation on Wednesday evening.
The investigation is still on going. As of Wednesday afternoon, three patients remained in critical but stable condition at the burn center in Wichita. Our agency will not release the names of those injured during the incident Tuesday to allow the family's privacy during the ongoing recovery process. A total of 36 firefighters and 14 fire apparatus were on scene during the incident Tuesday. No injuries were reported to fire personnel.