Seward County Fire Department Receives New Truck
Joe Denoyer - July 6, 2017 12:35 pm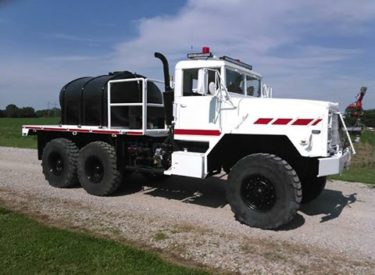 Seward County Fire Rescue took delivery of a 6×6 M923A2 on Wednesday. The truck was free to the county from the Kansas Forest Service with the county responsible for converting it to fight grass fires.
The cost for the conversion was approximately $30,000.00 as was completed by 1st due emergency response solutions in Bartlett Kansas.
The brush unit is equipped with a 1,000 gallon tank, reel line, whip line, 1.5 inch cross lay, front bumper monitor, and driver side spray downs. All pump controls are in the cab, allowing for one person operation. Personnel will be undergoing training in maintenance and operations over the next few days.
The truck will be placed into service Monday. The county has been on the list for the 6×6 since November 2016 and was notified in February 2017 the truck was available. The county was placed back on the list this morning for obtaining another truck.