Seward County Commission Meets, Approves Fairgrounds Roof Bid
Joe Denoyer - July 18, 2017 3:26 pm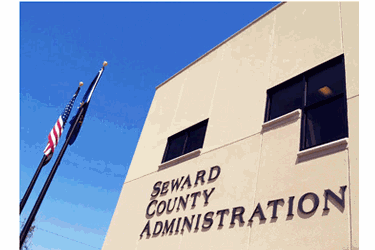 Seward County Commissioners met on Monday evening for their regular meeting. Among the items on the agenda, the Commissioners approved the bid from White Roofing for the roof replacement of the Shop and food court area on the fairgrounds. Cost of the replacement is $43,756.00
For the Health Department, approved at the meeting was the Memorandum of Understanding for a Social Worker and a Nurse Practitioner.
The County Commission approved a joint project with the City of Liberal to repair Fairgrounds Lane. This is pending the City's approval at their next regular meeting. The cost of the project would not exceed $4,500 each with the City providing additional asphalt millings and the County doing the work. The project would be completed prior to the start of the 5 State Fair with the chip sealing of the road to take place in September.
The County also directed Tony Herrman to solicit bids for wrought iron fencing for Restlawn Cemetery.
The Commissioners approved the Budget and Policy and Job Descriptions and wage changes for JCAPS and approved POTS Lines for District Court.
The County Commissioners also approved the purchases of Self Contained Breathing Apparatus' and Extrication Equipment for the Seward County Fire Department, and a Ciscor Alarm System for the County Administration Building.
The County also approved funding their portion of the Kansas Small Business Development Center. This is a joint agreement with Seward County, The City of Liberal and Seward County Community College. Each entity contributes $12,000.00 with the Center housed at the Technical School.