Seward Corrals Cowgirls
KSCB News - January 4, 2014 6:58 am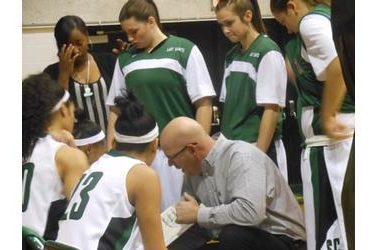 The Seward Lady Saints made quick work of the Connors State Cowgirls 95-42 Friday night in the Green House as part of the Conestoga Classic. Seward led 55-23 at halftime and never looked back against a Cowgirl team who is 3-8.
Seward shot 54 percent from the field and held Connors to 33 percent shooting. Seward forced 25 turnovers. Shanise Brooks scored 21 and pulled down 16 rebounds leading a pack of six Lady Saints scoring in double figures. Alana Simon and Fabiana Monte scored 14 a piece. Korina Chapman had 12 with nine rebounds. Brianna Scott and newcomber Rebekah Hatchard had 11 a piece.
Seward is 14-1 and plays 2-15 Northwest Tech Saturday night at 6 on 1270 and kscbnews.net with coverage at 5:45 with Saints Shootaround. Iowa Western defeated the Lady Mavericks 88-53 Friday afternoon in the Green House.