Second Half Surge Sends Saints Past Eastern Oklahoma State
Brock Kappelmann - November 3, 2019 10:00 am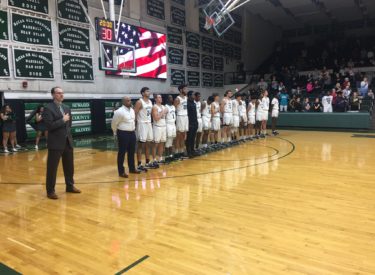 In the first meeting since the third place game on the 2012 NJCAA Tournament, the Seward County Saints defeated the Eastern Oklahoma State Mountaineers 93-79 Saturday night.  It was the final game of the Pizza Hut Classic in the Green House.
The Mountaineers raced to a 32-18 first half lead and led 40-37 at the half after making 8-14 from three point range.  But the Saints blistered the Mountaineers in the second half out pacing Eastern 56-39.  Seward led points in the paint 40-16.  Seward shot 42 percent but made 30-41 free throws in the win.  Eastern was 13-32 from three point range.  Seward out rebounded Eastern 51-38.
Branton McCrary and Roy Clarke scored 17 a piece.  Nika Metskhvarishvili had 13 points and seven rebounds.  Rostic Novitski had 11 points and seven rebounds.  Stephen Takyi had 10.
Seward is 2-0 and Eastern is 0-2.  The Saints play the Lamar JV Thursday night at 7 in the Green House for their one game in the Pepsi Classic.  Tickets are available at both Liberal Hutch's.