SCCC Poetry Winners Announced
Joe Denoyer - April 29, 2017 7:29 pm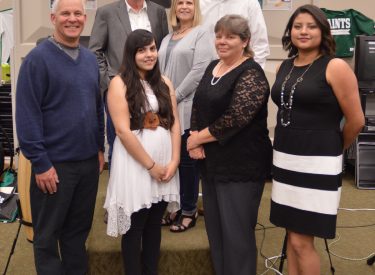 Liberal, Kans.— Contest winners read their poems Wednesday evening at Seward County Community College's eighth annual Poetry Coffee House, which also featured Kansas Poet Laureate Eric McHenry, contest judge.
Eric McHenry read several of his poems and also shared poetry by well-known poet William Stafford, who was from Liberal. He read to a capacity crowd and received a standing ovation at the end of the evening.
"That's my first standing ovation," McHenry said, "and this is my last official visit as poet laureate, so it was a great way to end my tenure."
Contest winners in two categories also read their poetry. Ulysses High School students swept the Scholarship Category for area high school juniors and seniors, winning first, second, and third places. Garnering a first-place win was Sofia Salinas for her poem "Olivia." Second place went to Emily Curl for "Oblivion." Curl also received an honorable mention award for "Closing Thoughts." Salinas and Curl were each awarded a $100 scholarship by the SCCC Foundation. Taking third place with her poem "I Am" was Charis Dupuis.
Additional honorable mention awards in the scholarship category went to Lily Anguiano, Ulysses, for "Epitaph," Esther Benniger, Sublette, for "The Hill," Jesika James, Ulysses, for "Sunflowers," and Kierra Stokes, Sublette, for "Tiger" and "Why."
Winning the Open Category (ages 14-adult) was Bret Swanson of Liberal with his poem "To A Muse." Second place went to Noemi Rodriguez, Liberal, for "Shooting Star," and Teresa Wehmeier, Hooker, Okla., won third place for "Thoughts Beside a Hospital Bed." Best SCCC Student Poem went to Jessica Aldave-Ramos for "4×4 stand up shower." Rosa Strydom won an honorable mention for her SCCC Student Poem "Change is Frightening."
Additional honorable mention winners in the Open Category were Ryan Burrows, Santanta, for "Thank-You, Mrs. Sullivan," Jessica Gomez, Liberal, for "What does an abused child need?," Lois Magner, Liberal, for "Time Flies," and Abi Rivas, Liberal, for "Five Centimeters Per Second."
In addition to the two scholarships, poetry contest prizes included signed copies of contest judge Eric McHenry's latest book, cash awards, Magnetic Poetry sets, coupons for pizzas, cheesestix, and wings donated by Pizza Hut, gift cards donated by the Saints Bookstore, and SCCC merchandise.
The contest drew 90 entries this year with submissions from Liberal, Hugoton, Ulysses, Satanta, Sublette, and Hooker, Okla.
Live music for the evening was provided by SCCC students Ben Knight, Alyssa Fisher, and Alex Bolivar.
The contest and Poetry Coffee House are annual events, and plans are already in the works for April 2018.