Salina South Sinks Liberal
Brock Kappelmann - October 28, 2017 7:45 am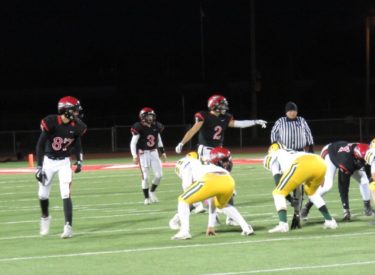 Liberal has a winning season for the first time since 2005, multiple WAC wins for the first time since 2008, beat Great Bend for the first time since 2003, but the playoff drought lives on.  Salina South made sure of that Friday night at the Gary Cornelsen Sports Complex scoring 24 unanswered points to beat Liberal 24-14.
Liberal couldn't have gotten off to a better start.  Elwin Trejo tipped an option pitch and Cesar Burciaga caught the tip and took it to the one.  Burciaga plowed into the end zone for a score just 14 seconds into the game for a 7-0 lead.  Liberal used 11 plays and 71 yards on their next drive to score capped by a Syris Dunlap three yard run for a score to take a 14-0 lead with 1:51 to play in the first.  Liberal's Ethan Hatcher recovered a fumble early in the third quarter (11:12 mark).  But Liberal's drive stalled.  Salina South blocked a Liberal punt late in the first half and Payton Webb took the ball to the Liberal two.  Tanner Parret's three yard score at the 1:38 mark made it 14-6.  Tyrique Chandler blocked the PAT.  It was 14-6 at halftime.
Liberal had 10 yards in the second half.  Salina South kicker Avila Castro kicked a 23 yard field goal at the 6:14 mark to make it 14-9.  Salina South recovered an LHS fumble at the LHS 18.  But the Redskins bowed their necks and forced a missed 31 yard field goal.  Liberal's punter Burciaga took off on a fake but was stopped short on Liberal's 25.  That led to a Parret one yard score to make it 17-14 with six seconds remaining in the third.  Liberal's offense continued to struggle as the LHS defense was on the field much of the second half but they did make one more goal line stand forcing another missed field goal.  But South's Parret scored on a four yard run to make is 24-14.
Liberal finishes 6-3 and Salina South is 3-6.