Salina South Sinks Lady Skins
KSCB News - January 23, 2016 8:40 am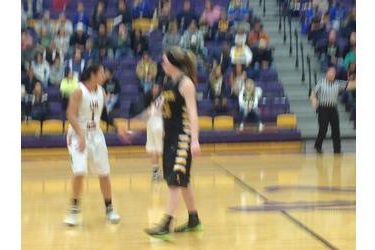 In another defensive struggle, Salina South edged Liberal 47-45 in the opening round of the Salina Invitational at Mabee Gym at Kansas Weslyan Friday night.
The Lady Cougars led 6-0 as the Lady Skins didn't score for the first almost six minutes of the game. The game was tied at six after one and LHS trailed 22-19 at halftime. South led 31-30 after three. A Whitney Hay three pointer gave Liberal a 36-35 lead but it was short lived as South delivered a three ball of there own to make it 38-36 seconds later. The game was tied at 40 when an official made a controversial call fouling Liberal's point guard Diamond Bailey out of the game. When LHS head coach Carter Kruger questioned the call and did not cuss, he was given a technical leading to thee of four at the foul line to make it 43-40. Hay made a three with a second left to pull LHS within two.
Ali Lucero had 11 and Hay had 10. Liberal is 6-4 and loses their first meeting with Salina South since 2007. South is 4-7. LHS plays Abilene who is ranked eighth in 4A division 1 at 5:30 at the Bicentennial Center on 1270 and kscbnews.net.