Saints Wrap Up Best Tennis Season in School History
KSCB News - May 18, 2015 1:26 pm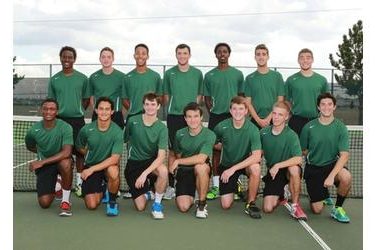 The Seward County Saints Men's Tennis team wrapped up its best season in school history on Saturday, winning a pair of consolation bracket championships, and collecting a national runner-up medal to finish the NJCAA National Tournament with 23 points to finish 8th, their best finish in program history.
Tare Mariga played for a National Championship for the Saints at #5 singles on Saturday. Mariga squared off against top seeded Shaquille Taylor of ASA in the final and fell behind in the match right off the bat, dropping the first set 6-1. Mariga bounced back though, battling Taylor to a 6-4 win in the second to even the match at one. In the third Taylor regained the upper hand, taking Mariga down 6-2 to win the match 2-1. Mariga finishes 2nd in the #5 singles draw, the best finish for a Seward player in program history.
In the #2 singles bracket Vitor Galvao took the court for the Saints looking to pick up a half a point in the consolation final. Galvao took on Christian DeLa Cruz of Elgin and had no problem with him, bouncing him 8-1 to bring home the consolation crown.
The Saints final match of the tournament came in #3 doubles where Mariga and partner Paul Arslanian played for the consolation title against Bell/Dishman of Seminole State. It was a back and forth battle early before the Saints found their stride, going on to win 8-4 to win the consolation title and pick up a crucial half point to move Seward into 8th place with 23 points.
Seward's 23 points were good for an 8th place tie with coincidentally, Region VI rival Cowley. The 8th place finish marks the best Seward County finish at the NJCAA National Tournament in program history. ASA won the tournament with 50 points while Tyler was a distant second with 43.
For complete results of the 2015 NJCAA National Tournament, visit the tournament homepage by CLICKING HERE<http://tennislink.usta.com/tournaments/TournamentHome/Tournament.aspx?T=169284>.
Roy Allen