Saints Sweep Cloud in Hays
Brock Kappelmann - April 1, 2017 6:43 am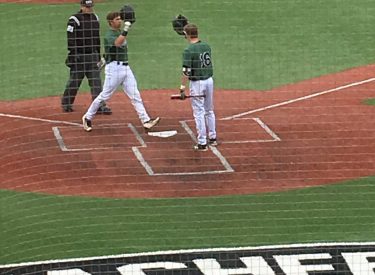 Seward received outstanding pitching and timely hitting Friday on the way to a sweep over Cloud at Larks Park in Hays.  The Saints won the first game 3-2 in eight and took the second game 4-3.  The games were played in Hays due to a soaked field in Concordia and the fact that Larks Park has a field turf infield.
In game one Jared Biddy pitched Seward to a complete game win.  He struck out ten.  He allowed two first inning runs against the Thunderbirds but held them scoreless for the next seven innings.  Seward tied the game in the second when Tim Fitzgerald ripped a double down the left field line to score two.  The game remained tied and went extra innings.  In the eighth, Addison Kaasch lofted a home run over the right field wall for his fourth homer of the season.
In game two, Ethan Earhart took a no hitter and 4-1 lead into the seventh before Cloud scored two and had the tying run on base.  Earhart pitched 6 and 2/3 innings for the win.  Dominic Duran pitched a third.  Jacob Nielsen blasted a two run homer over the left field wall in the second.  An error allowed the T-Bird to score in the second.  Law Greiner unloaded on a pitch over the left field wall for a two run shot to make it 4-1.  Brian Tims was 2-3.  Seward out-hit Cloud 6-2.
Seward is 5-9 in the Jayhawk West and 12-21 overall and Cloud is 16-18 overall and 6-12 in the Jayhawk West.  The teams will take Saturday off and meet in Hays again on Sunday to play at 1 with Saints Dugout Show at 12:45 on 1270 and kscbnews.net.