Saints Fight Past Frank Phillips
KSCB News - November 21, 2015 7:19 am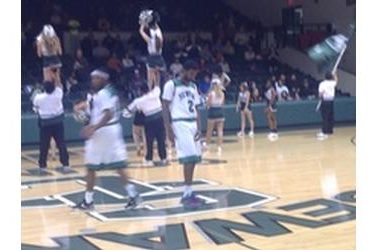 Seward made enough plays down the stretch to top Frank Phillips 90-75 Friday night in the Green House. The Plainsmen out rebounded Seward 52-28, but led throughout the night.
The Saints built a 17-4 lead early and led 40-33 at the half. The Saints led 55-40 and 58-42 early in the second half. The Plainsmen (7-2) rallied to cut Seward's lead to three (68-65). The Saints bolted ahead 78-71 with 3:19 to play. Seward made 24-31 free throws while FPC was 13-25 at the foul line.
Niem Stevenson had 29 points and nine rebounds. Marcus Mathieu had 21 while Delano Jones had 16 and Charles Beauregard scored 10.
Seward is 8-0 and plays 8-1 Midland Saturday night at 8 in the Green House in the Billy's Days Inn Classic airing on 1270 and kscbnews.net. The Chaparrals beat Garden City Friday 98-86.