Rural Texas County Home Destroyed by Fire
Joe Denoyer - May 2, 2022 4:27 pm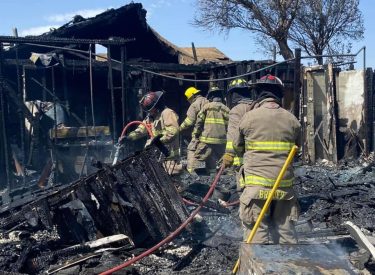 A rural family home was destroyed by fire Sunday afternoon southeast of Guymon. At 1:40pm, Texas County 911 Center answered the call of a farmhouse engulfed in flames and possibly had occupants inside. Guymon, Hardesty, Hooker, and Goodwell Fire Departments were immediately dispatched to this scene at Rd, X & Mile 36 east of Guymon. "First arriving fire units arrived to find heavy fire conditions on the south end of the home and rapidly spreading to the rest of the home," stated Guymon Fire Chief Grant Wadley.
The fire continued to grow with intensity due to the 30-40mph winds, high outside temperatures, and the wood construction of the home. The flames from the house fire also sparked a grass fire to begin north of the home which Firefighters were able to extinguish quickly. First arriving Firefighters were able to make a search looking for people inside and found none. It was later found that the home occupants, Olivia Grider, was indeed not home at the time.
The fire destroyed the home and all the family's personal items. Cause of the fire is still under investigation by the Guymon Fire Department. Estimated value of loss is greater than $50,000. Red Cross has been contacted to aid the family in their loss. No injuries were reported, and Firefighters remained on scene for nearly 3 hours. The 4 Fire Departments were assisted by Texas County District #2 tankers, Texas County Sheriff Office Deputies, DA Task Force Officers, Tri-County Electric, and West Texas Gas.