Rudzik Leads Ulysses Over Liberal
KSCB News - September 5, 2015 12:30 am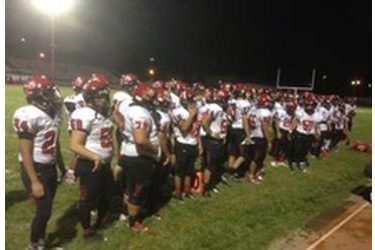 Ian Rudzik was as advertized. The senior rushed for 259 yards helping Ulysses trounce Liberal 38-19 despite six turnovers. Ulysses has won eight of ten over LHS since the teams resumed their series is 2004.
It was a rough start to the season as the Tigers took an 18-0 first quarter lead. Rudzik capped off a 73 yard 15 play drive with a one yard TD run to make it 6-0 Tigers at the 5:56 mark. Ulysses blocked a punt and recovered at the Liberal 13. A Rudzik one yard scored made it 12-0 at the 2:53 mark. A high snap over Liberal's punter gave UHS the ball at the LHS six. A Rudzik seven yard score made it 18-0 with 44 seconds to play in the first quarter. Victor Monarrez recovered a fumble at the Ulysses 41 on a muffed punt. A Rudzik 21 yard TD on 4th and 4 gave Ulysses a 24-0 lead. Ethan Chacon recovered yet another muffed UHS punt. Sylman Pando rounded out the half with an interception.
Jared Hasik began the second half with a 72 yard touchdown run to on the first play from scrimmage of the half. After a Liberal stop. Diego Maravilla intercepted a Hasik pass with 7:19 to play in the third. Mario Rodriguez raced in from 14 yards to make it 31-7 out after a key Braden Scott completion to Maravilla to convert a 4th and 9. Rodriguez two yard run made it 38-7 with 8:53 to play. Hasik found Juan Rodriguezfor a 65 yard bomb to make it 38-13. Derrryck Symons recovered a fumble which led to a Liberal drive culminating in a Hasik two yard TD run with 7:49 to play. A Fraire fumble recovery and a Rodriguez interception made six UHS turnovers.
Liberal had 216 yards of offense as Hasik rushed for 120 yards and passed for 97. Ulysses had 400 yards. Alan Fraire was Jury Farrar and Associates Player of the Game.
The 0-1 Redskins play host to 1-0 Guymon Friday nigth at 7 at Redskin Field on 1270 and kscbnews.net. Ulysses plays at 0-1 Hugoton.