Robotics Team Headed To World Competition
Joe Denoyer - April 5, 2017 3:52 pm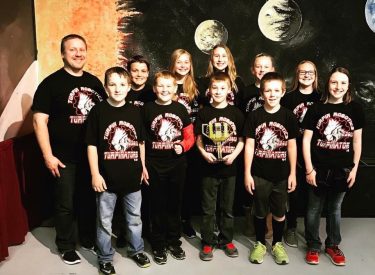 The Turpin "Turpinators" who on March 25th won the Overall Champion Award at the First Lego League Robotics competition at the Mid America Air Museum, will be headed to St. Louis later this month for the World Competition. The Competition will be held  April the 26th through April 29th. There will be teams from not only all over the United States but also from 41 other countries from around the World.
All teams will be competing on a level playing field with Animal Allies being the theme for everyone. In addition to the table competition, each team will be judged on Core Values, Project, and Robot Design.
The Turpinators will be taking 10 team members, coaches and parents. To help pay for the trip, the team has been doing fundraisers and also a raffle drawing. Okie Ag Chemical donated a 265 gallon tote of glyphosate herbicide which can be delivered within a 100 mile radius of Turpin. If you chose not to take the herbicide if you win, you can take the alternative prize of $2500 in cash.  Chances are $100 each and can be purchased from any team member, Turpin School, or by calling 620-290-1619. The drawing will be held on April 11th during the Robotics Open House at the Turpin School, need not be present to win. Any and all other donations can also be taken to the school or given to team members.
This is just the second year the Turpin team has been involved in the Robotics Program.