Road Woes Continue for Lady Saints
KSCB News - January 3, 2016 5:56 am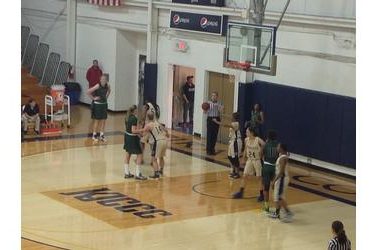 It was a perfectly awful start to 2016 for Seward County. Playing without Sharp shooter Daniela Galindo, Seward turned in a 30 turnover outing in a 76-73 overtime loss at Independence Saturday evening. The Lady Saints were 11-25 at the free throw line while the Lady Pirates were 26-32.
Galindo started the game but only played about a minute on her banged up knee. Axelle Bernard played and fouled out but was ill.
Seward led by as many as 11 in the first half but failed to put the game away as Indy made it 39-37 SCCC at halftime. Indy led by as many as seven in the second half. Joanna Grymek had 26 points and 10 rebounds in the loss. Bernard had 12 points and nine rebounds and Clitan de Sousa had 12 points and 10 boards. Seward shot a respectable 46 percent but was 2-17 from three point range while Indy shot only 29 percent but rallied at the foul line. Many of the Lady Saint turnovers came trying to force it in to Grymek.
Independence had five straight wins over Seward who falls to 2-4 on the road and 11-4 overall. Seward is 3-2 in the Jayhawk. Indy is 11-4 overall and 2-3 in the KJCCC. Seward hosts Neosho Wednesday at 6 on 107.5 and kscbnews.net. Sunflower Bank is the buyout sponsor.