Regional Theater Camp Comes To SCCC/ATS Campus
KSCB News - May 29, 2014 10:05 pm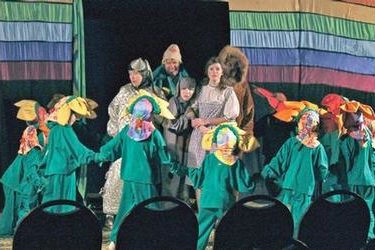 There's still time to register for a regional theater camp that will open on the campus of Seward County Community College/Area Technical School June 7. The independently-operated Broadway Academy of Performing brings students ages 10 to 20 on campus for one intense week that culminates in a full-fledged Broadway-style production.
"It's kind of like theater boot camp," said camp director Alison Bridget Chambers. The former SCCC/ATS instructor said the summer camp is "the closest thing to professional experience kids could be involved with, because being in the show, learning the show, preparing the show — it's a full-time job."
Gloria Goodwin, SCCC/ATS instructor of public speaking and theater, said she's pleased to see the camp continue.
"BAP is amazing," she said. "I'd want my child to go." The week of training production not only helps fledgling actors and singers develop their abilities, Goodwin noted; the camp also gets students on stage at the SCCC/ATS Showcase Theater, and gives them a taste of what it would be like attend college and participate in the college's growing theater program. Previous sessions of the camp have drawn students from Elkhart, Hugoton, Manhattan, Forgan, and even Tulsa.
The June session of BAP will produce the classic musical "The Wizard of Oz," which holds a special place in the hearts the people of Liberal, a town where Dorothy statues adorn many busy intersections and the Land of Oz/Coronado Museum is a popular tourist attraction. Chambers said Oz is also a hit with students.
"It's familiar to children, which is important when you're introducing them to theatre for the first time," she said. Each year, Chambers asks campers what they'd like to tackle in the future.
"They wanted 'The Wizard of Oz,'" she said, "so I'm giving them what they want."
Students interested in signing up for the camp have until June 2 to do so. Applications are available at the BAP website, www.broadwayacademyofperforming.com, and may be dropped off at the SCCC/ATS campus, at Goodwin's office in the Shank Humanities Building.
Camp opens at noon June 7, auditions will take place that evening and rehearsals continue through the week. Students live in the dorms and eat at the SCCC/ATS cafeteria. Veteran directors and musicians Thesa Loving and Marilyn Gates, both of whom have worked on Broadway and currently live and work in Tulsa, will bring their educational and performance expertise to the camp.
This year, BAP will stage two performances of the musical, with an evening production scheduled for 7 p.m. June 13 and a 2 p.m. performance June 14 in the Showcase Theater.
A second session of BAP is set for July 19 to 26, with the musical "Fame." Cost for each week of BAP is $400, which includes room and board. Students who attend both sessions will receive a discount.
For information about BAP, contact Gloria Goodwin at SCCC/ATS, at 417-1460, or visit the BAP web page.