Redskins Shoot Blanks Against Rangers
KSCB News - December 17, 2011 7:42 am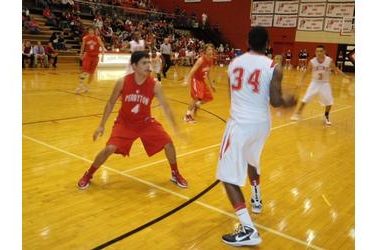 Liberal misfired Friday night. While Perryton nailed nine three pointers, Liberal had one. While the Rangers sunk 20-25 free throws, the Redskins were a costly 11-25 at the foul line in a 67-56 loss Friday night at the Big House. The Skins (2-3) also missed their share of lay-ups in the loss.
Liberal head coach Drew Gruver was also displeased with his teams defense. "If we allow 67, will lose every game."
The Rangers (11-3) led 12-6 after one quarter and 24-17 at the half. The Redskins cut into that lead in the second half trailing by one twice (29-28 and 32-31). The Rangers swished two three pointers to make it 38-31 and never looking back hitting a three at the third quarter buzzer to lead 43-35 after three.
Perryton point guard Evan Turner scored 27 while Russell Anderson added 14. Liberal's DeVondre Livingston scored 21 and Andre Jackson added 18. But the two Redskin big men struggled at the foul line going a combined 6-18 at the foul line.
Liberal is 2-3 and hosts Holcomb Tuesday night at about 7:45 on Talkradio 1270 and kscbnews.net.