Redskins Rally Past Red Demons for 16th Win
KSCB News - May 8, 2015 10:34 pm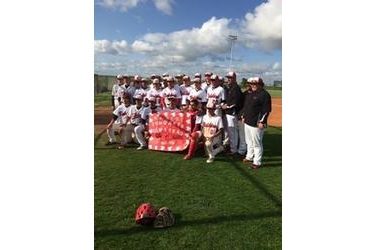 Trailing 3-2 in the sixth with a standing room only crowd looking on, third ranked Liberal proved their mettle with two runs to lead 4-3 and then win the game after sixth ranked 6A Dodge City loaded the bases.
Dodge and Liberal scored single runs in the first. LHS scored in the bottom of the fifth to lead 2-1 before the Red Demons added two in the sixth.
LHS had four runs on five hits and two errors while the Demons had three runs on seven hits and one error.
Cole Evans pitched four strong innings with four strikeouts and no walks and did not allow an earned run. Jared Hasik (6-0) worked three innings for the win. Angel Archuleta and Cole Aevans were both 2-3. Evans drove home a run and Kaiden Long was 1-3 with an RBI and Tim Fitzgerald scored two runs and stole three bases.
Liberal head coach Eric Olmstead won his 100th game as head coach.
Liberal is 16-2 and 4-2 in the WAC while Dodge City is 10-4 and 4-2 in the WAC. Hays is also 4-2 in WAC. Liberal plays at Hays Tuesday and Dodge travels to Great Bend Monday.