Redskins Nail North
Brock Kappelmann - September 13, 2019 10:45 pm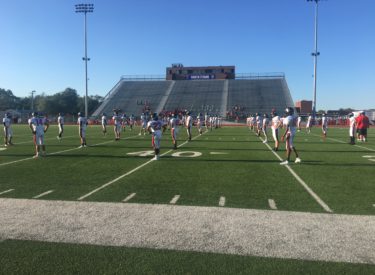 The Liberal Redskins are 2-0 for the second time in three years after their 55-18 drubbing of Wichita North.  The game occurred Friday night at Carpenter Stadium at Wichita South High School Friday night.
Syris Dunlap returned the opening kick for a touchdown. It's the second straight week LHS returned their opening kick for the score.  Liberal drove right down the field to the North five on their first offensive possession but fumbled it away to North.  Liberal led 6-0 after one quarter.  LHS wasted little time socirnf four seconds into the second quarter as Dunlap lofted a 17 yard score to Braxton Hyde.  Liberal got the two for a 14-0 lead.  North's Joe Williams scored on a five yard run to make it 14-6 with 8:20 to play in the half.  Dunlap's 37 yard pass to Shay Kerr and the two point conversion made it 22-6 with 7:15 to play in the half.  Lee Hatcher recovered a fumble late in the first half.  Elijah McCarter's 45 yard run set up his own five yard TD to lead 28-6 with 4:04 to play on the half.  That was the halftime score.
Kwame Williams recovered a fumble in the end zone with 7:58 to play in the third for a 34-6 lead.  Dunlap's 69 yard TD run made it 44-12 with 3:11 to play on the third. Easton Zapien recovered a fumble on North's kick return.  Dunlap found Kerr for a seven yard TD pass.  Braxton Hyde intercepted a pass as LHS forced North's fourth turnover of the night,  Leo Diaz scored on a 45 yard score.
Liberal's 523 yards of offense was their most since 2013.  Elijah McCarter ran for 188 yard and Dunlap added 167.
Liberal hosts Hays Friday night at 7 at the Gary Cornelsen Sports Complex. The game will air on 1270 and kscbnews.net.