Redskins Hold On to Beat Dodge City
KSCB News - February 27, 2015 7:30 am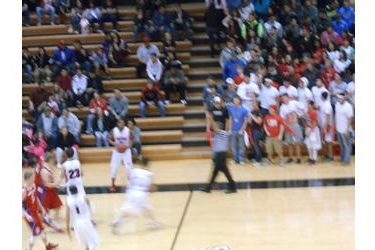 Liberal beat Dodge City 58-57 Thursday night on Senior Night in the Big House for their first win over the Red Demons since 2009. Dodge City missed a shot with several seconds left and Kylan Thomas rebounded the ball for a Redskin win. The Rowdy Crowd rushed the court as soon as the Dodge City team left the floor.
This was a tight game throughout. Liberal led 16-14 after one quarter after trailing 9-2. The Red Demons took a 24-23 lead into the locker room. Dodge led by six twice 34-28 and 40-34. The Demons led 44-42 after three quarters. The Redskins took a 54-49 lead with about 2:45 to play. But Dodge took the lead at 55-54 with 1:44 to play. Two Tim Fitzgerald free throws gave LHS a 56-55 lead with 45 seconds left. But Dodge made two charities to lead 57-56. With 7.9 seconds left Fitzgerlad lined up for a right win three pointer but instead dumped inside to Deladris Green who dropped in a two footer from the right lane to give LHS a 58-57 lead. Dodge City took a shot from about the right elbow with time running out and missed for a Thomas rebound and a Redskin win.
Dodge City was 20-22 at the foul line while Liberal was 10-14. The Demons were 0-8 from three point range and Liberal was 6-15.
Tim Fitzgerald and Kylan Thomas scored 14 a piece and Mershek Wiltshire scored 13. Liberal is 13-7 and 4-4 in the WAC while the Demons are 11-9 and 5-3 in the WAC. Garden City wins the WAC outright with a 6-2 record. Liberal hosts Goddard Eisenhower for sub state Thursday night at 6 on 1270 and kscbnews.net.