Redskins Gallop Past Guymon
Brock Kappelmann - September 9, 2017 6:30 am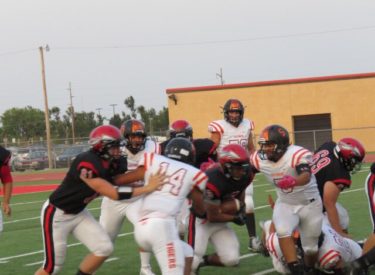 Liberal is 2-0 for the first time since 2013 after beating the Guymon Tigers 49-3 Friday night at the Gary Cornelsen Sports Complex.  LHS amassed 420 yards to Guymon's 55 in the win.  Syris Dunlap ran for 111 yards and three scores and tossed for 75 yards and another score in the win.  Alan Marquez ran for 105 yards and a score.  Cesar Burciaga added 67 yards and a touchdown.  Elwin Trejo was the Jury Farrar and Associates player of the game for his play on defense.
The Redskins scored on their first drive as Dunlap took a two yard sneak behind Aron Lechuga for a 7-0 lead at the 8:35 mark of the first quarter.  Dunlap feathered a passed over the top to Josh Arafol into the northeast endzone for a 14-0 lead at the 1:27 mark.  Dunlap's 58 yard pass to Tyrique Chandler set up Dunlaps two yard run with 19 second remaining in the first quarter for a 21-0 lead.  Guymon's Brice Bagley intercepted a pass and took it to the LHS 35 leading to a Javier Medina 43 yard field goal for the Tigers to make it 21-3 with 3:58 to play in the first half.
LHS scored on their first drive of the second half as Dunlap's one yard quarterback sneak at the 6:30 mark made it 28-3 after the PAT.  Marquez's seven yard run made it 35-7 at the 1:59 mark.  Cesar Burciaga's 31 yard run with 6:04 to play in the game made it 42-3 and Isiah Witherspoon's 10 yard run made it 49-3.
Liberal defeats Guymon for an 18th consecutive time.  Liberal hosts 1-1 (1-0) Hays Friday night at 7 for homecoming at Redskin Field.  Guymon goes to Stratford.