Rattlers Win State at Wellington
Brock Kappelmann - July 17, 2017 6:51 am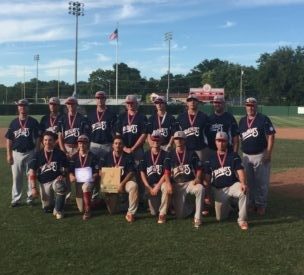 The Liberal Rattler 18U team won the Babe Ruth title Sunday in Wellington.  Liberal defeated Cottonwood Valley 8-1 to advance to the championship game where they defeated Junction City 8-7.
In the first game, after Cottonwood Valley took a 1-0 lead, the Rattlers scored five in the third, two in the fourth, and one in the fifth.  Braxton Hyde pitched the distance for the win.  Elijah McCarter was 2-3 with two RBI's.  Cesar Burciaga and Cole Evans had doubles.  Hyde was the MVP and McCarter won the WOW for his play at shortstop.
That set up a 5 p.m. championship game against Junction City.  The Rattlers took a 4-1 lead after four.  Junction City scored six in the fifth to lead 7-4 but the Rattlers responded with four in the fifth.  Kaleb Wilmes went 4 and 1/3 innings allowing three earned runs.  Alex Yanez went 2 and 2/3 allowing one earned run.  Evans was 2-4 with two RBI's.  McCarter was 2-3 with two RBI's.  Evans had 17 RBI's in the tournament.  Liberal is 31-5.