Rattlers Win Southwest Diamond Classic in Liberal
Brock Kappelmann - June 5, 2017 6:49 am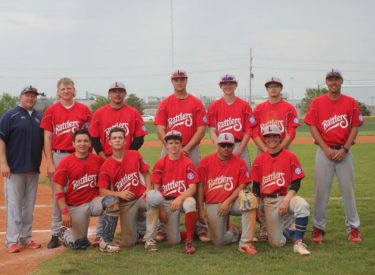 The 18U Liberal Rattlers experienced winning their home tournament this weekend.  Sunday the Rattlers defeated Finney County 9-6 to capture the Southwest Diamond Classic title.  They knocked off Lamar 3-1 in the semifinals.  The Rattlers won their final game in pool play Saturday over Canon City, Colorado 5-3.
In Sunday's title game against Finney County, the Rattlers scored in all but one inning.  They led 9-3 until Finney County scored three in the seventh.  Cole Evans and Cesar Burciaga had three hits a piece.  Both had triples.  Kaleb Wilmes was solid on the mound going six innings allowing three runs.  Finney County out-hit the Rattlers 14-13.
The Rattlers won a pitcher's dual 3-1 over Lamar Sunday.  Braxton Hyde pitched 6 and 2/3 allowing one run.  Lamar had just two hits.  He had 10 strikeouts and one walk.  The Rattlers plated runs in the fourth, fifth, and sixth.  Burciaga was 3-3 and Hyde was 2-3 with two doubles.
Saturday in the final game of pool play, the Rattlers defeated Canon City, Colorado.  Tucker Deaton pitched 6 and 1/3 innings without allowing an earned run.  The Rattlers plated two in the first before Canon scored three in the third before the Rattlers reclaimed the lead with two in the fifth and one in the sixth.  The Rattlers had five errors and Canon had four.  Elijah McCarter was 2-4.
The Rattlers are 7-0.